Traditional CPAP Treatment
Once diagnosed, sleep apnea sufferers are often prescribed a CPAP machine, which stands for Continuous Positive Airway Pressure. It delivers a stream of compressed air through a plastic tube connected to a nasal pillow, nose mask, or full-face mask. The air pressure helps maintain the airway open, making normal breathing possible.
While CPAP is widely considered the "gold standard" for treating sleep apnea, it is estimated that only around 40% of patients actually wear their CPAP masks because they can be:
Bulky and uncomfortable
Loud and noisy
Challenging to sleep in
Challenging to travel with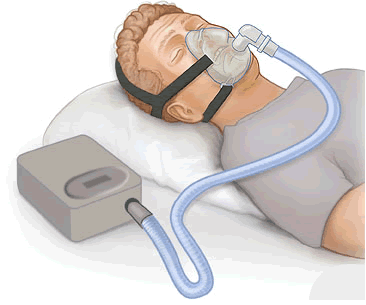 Custom Oral Appliance Therapy
Recent advances in technology now make it possible for Dr. Dassani to help treat sleep apnea with a device known as oral appliance therapy (OAT) which helps shift the jaw forward, opening up the airway.
If your sleep apnea is not severe enough to absolutely require CPAP or surgery, we would like to help you get the rest you deserve by creating a custom sleep apnea mouth appliance that will open your airway during sleep and allow you to breath normally. We offer multiple mouth appliance options because we understand that one option might not work best for all patients. Together with you and a sleep physician, we will discuss your options and decide which is likely to be your ticket to a full night's rest. For the treatment of mild to moderate sleep apnea, this conservative approach is an appealing alternative to surgery or intrusive CPAP machines.
Narval™ CC
Discreet and non-invasive.
Customized design makes for a comfortable fit.
Allows you to talk, drink, and close your mouth while sleeping.
84% of users report successful treatment with regular wear.
MicrO₂® Sleep and Snore Device
Allows more tongue space with its lingual-free design.
One piece construction.
Minimizes risk of TMJ and other craniofacial complications.
Made with improved biocompatible materials.
SomnoDent MAS
One of the most comfortable appliances.
Custom made to fit your mouth.
Does not impose on your tongue.
You have the ability to open and close your jaw.
Thornton Adjustable Positioner (TAP®)
Composed of two separate arches containing a mechanism which permits advancement of the lower jaw.
The SUAD
Allows more lateral movement than most appliances.
Especially made for patients who grind their teeth at night.
The thermoflex material usually requires heating in warm/hot water to soften it enough to place it every night.
Comes with a Morning Repositioner, used for isometric exercises for 15 minutes in morning to help the bite return to normal.
The OASYS Oral/Nasal Airway System
First dental device to be reviewed by both the dental and ENT divisions of the FDA and to be approved as a dental device for treatment of snoring and sleep apnea.
Works through mandibular repositioning and also as a nasal dilator for reduction of nasal resistance and improved nasal breathing.
Elastic Mandibular Advancement (EMA) Appliance
Helpful with patients that have a larger than normal tongue.
Uses bands with different lengths and stiffness that are changed to create more forward movement of the mandible.
Silent Nite
Small device with tiny connectors attached to transparent flexible upper and lower forms.
Take Control of Sleep Apnea
If you are still wondering whether you may have sleep apnea, Dr. Dassani would love to speak with you. If diagnosed, your Houston dentist can help you take control of your nights, your days, your health, and your life with a simple, non-invasive treatment with oral appliance therapy.
Give us a call at Dassani Dentistry today or schedule your FREE CONSULTATION online to take the first step. We've provided the New Patient Forms you will need to fill out below for your convenience.